Exclusive apartments for sale Alcaidesa
Choose your best place
PHASE I 100% SOLD
PHASE II UNDER CONSTRUCTION
NEW PHASE COMING SOON
260+ Luxury Seaview Duplex & Penthouses
1-3 bedroom houses.
Apartments, duplexes and penthouses with stunning sea views and beautiful resorts areas.
Stunning location, top-end construction materials, state-of-the-art design and gorgeous sea views.






PHASE I OVER 60% SOLD
PHASE II LAUNCHING SOON
293 Sea and Golf view Homes
1-4 bedroom apartments and penthouses
Front line golf
5 minutes walk to La Hacienda Links Golf Resort clubhouse
Stunning resort area with beach entry pool, jacuzzis, indoor gym, co-working area, crazy golf and yoga & mediation zone.






Resort-style living in a prime location – Luxury apartments for sale Alcaidesa
If you're looking for an exclusive apartment in a stunning location, then Alcaidesa is the place for you. With its breathtaking views of the Mediterranean Sea and Gibraltar, this is a truly special place to live. We have a selection of apartments for sale that are perfect for those who appreciate quality and style. Take a look and see for yourself why Alcaidesa is such a sought-after destination. You won't be disappointed!
Alcaidesa is a beautiful and exclusive development in the south of Spain
Alcaidesa is an incredibly impressive sight to behold! Located on the southern tip of Spain, this exclusive residential and resort development exudes luxury. With its stunning views over the Mediterranean sea, gorgeous golden beaches and excellent shopping, dining and recreational facilities, Alcaidesa promises a luxurious holiday experience like no other. A wide array of activities are available for visitors to enjoy, such as golfing on the championship Alcaidesa Links course or going for a stroll along the stunning coastline. There's something for everyone in this lush paradise – buy an apartment in Alcaides today!
The apartments are spacious and modern, with stunning views of the sea
The apartments located on the beach offer stunning views of the sea. Each unit is spacious and modern, allowing you to experience the beautiful scenery without compromising on comfort and convenience. Amenities such as a fitness center, full kitchen, and private balconies provide all that you need to take time to relax while admiring the serene beauty of the endless ocean. Whether it's a holiday or a longer stay, these luxury apartments give you a unique combination of modern living and picturesque natural views.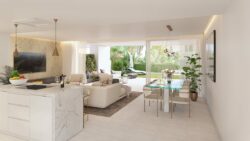 Alcaidesa is perfect for those who want to live in luxury and style
Alcaidesa is the perfect destination for anyone looking to experience luxury and style in their everyday lives. Located on the Mediterranean Coast of Spain, Alcaidesa offers stunning views of crystal sea waters, long stretches of sun-kissed beaches and plenty of activities for those seeking relaxation or a little bit of adventure. With an amazing climate year-round, it's easy to see why many people would choose to call Alcaidesa home. From golf courses and boutiques, to some of the finest dining in Europe – there is always something special to explore and enjoy no matter your preference. Whether you're staying for a short visit or planning a move there, Alcaidesa is truly an ideal destination for those who want to live life in luxury and style.
Our luxury apartments are close to all amenities, including shops, restaurants, and bars
Whether you're shopping for groceries, having a night out on the town, or looking to buy the most beautiful apartment in Alcaides, living near amenities puts it all within easy reach. With this development just steps away from an abundance of shops, restaurants and bars, taking care of daily errands and enjoying those evening adventures is easier than ever! This prime location provides convenient access to whatever you need without sacrificing the feeling of home.
Alcaidesa is the perfect place to live for those who want to enjoy all the best that Spain has to offer. The apartments are luxurious and modern, with stunning views of the sea, and they are close to all amenities including shops, restaurants, and bars. If you want to experience true luxury living, then contact One Eden and we will find you the best apartments in Alcaidesa.