Luxury golf homes for sale in Alcaidesa
Choose your best place
PHASE I 100% SOLD
PHASE II UNDER CONSTRUCTION
NEW PHASE COMING SOON
260+ Luxury Seaview Duplex & Penthouses
1-3 bedroom houses.
Apartments, duplexes and penthouses with stunning sea views and beautiful resorts areas.
Stunning location, top-end construction materials, state-of-the-art design and gorgeous sea views.






How to find the perfect exclusive golf home for sale in Alcaidesa
Looking for a permanent residence, retirement or second home that offers stunning views, great weather and a relaxed lifestyle? Then Alcaidesa might just be the place for you!
Alcaidesa is a beautiful, world-renowned golfing destination located on the southern coast of Spain. It is home to two 18-hole championship golf courses, as well as a 9-hole course and driving range – perfect for those who want to improve their game or simply enjoy a round in the sun.
What's more, Alcaidesa is just a short drive from the vibrant city of Gibraltar and its many attractions. As well as the  perfect base for exploring all that Andalusia has to offer too.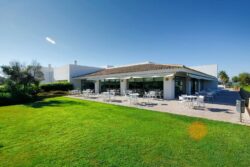 Alcaidesa is washed by the waters of the Mediterranean Sea, and on its coast there are pristine, sandy beaches where couples, families and friends can relax. The great atmosphere and hospitality of Spain impresses all travellers, along with  a comfortable favorable climate. Most days of the year are warm and calm, with just a small amount of precipitation in the spring and autumn., to keep the area green and verdant.
Price range for homes in Alcaidesa
While Alcaidesa is only a short distance away from well-known Sotogrande, popular with plenty of celebrities and their luxury living, Alcaidesa is a lesser known but beautiful gem,  where less expensive properties can be still be found for those looking for value. Resales for a small apartment can cost around €150,000 with the added bonus of access to a communal pool, while larger family golf homes will cost you anything from €400,000 to over €1,000,000. As with any destination, location and criteria will determine how much you pay. Luckily, wherever you are in Alcaidesa, the beach is never far away and is truly unspoilt.
Mediterranean chic, golf homes for sale in Alcaidesa and the high quality of living especially for social and recreational pursuits  makes real estate in Alcaidesa, Costa del Sol, Spain a natural choice with the best beaches, prestigious neighbours and a wide choice of world class golf courses.
Find stunning golf homes in Alcaidesa with One Eden's help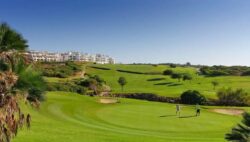 One Eden is the best off-plan developer in Alcaidesa and attracts plenty of real estate agency interest.. We have more than 20 years of experience and are fully licensed to sell properties in the Costa del Sol,  Spain. Our international team, who speak a number of languages, have an intimate knowledge of the region, so we can help you find exactly what you're looking for. Whether it's an investment apartment for those golfing holidays, a villa with a private pool or a penthouse apartment with panoramic views, our team  will guide you through every step of the process.
You deserve only the best when it comes to buying your dream property abroad, which is why we offer personalized service that ensures your needs are met at all times. From finding your ideal location to the perfect home  and closing the deal, our team  will be there every step of the way until you move into your new home in paradise! Come see us today – we look forward to meeting with you soon!
Contact us today about purchasing luxury golf homes for sale Alcaidesa!