Luxury beach view penthouses for sale in Alcaidesa
Choose your best place
PHASE I 100% SOLD
PHASE II UNDER CONSTRUCTION
NEW PHASE COMING SOON
260+ Luxury Seaview Duplex & Penthouses
1-3 bedroom houses.
Apartments, duplexes and penthouses with stunning sea views and beautiful resorts areas.
Stunning location, top-end construction materials, state-of-the-art design and gorgeous sea views.






PHASE I OVER 80% SOLD
PHASE II NOW LAUNCHED
293 Sea and Golf view Homes
1-4 bedroom apartments and penthouses
Front line golf
5 minutes walk to La Hacienda Links Golf Resort clubhouse
Stunning resort area with beach entry pool, jacuzzis, indoor gym, co-working area, crazy golf and yoga & mediation zone.






Buy a seaview penthouse: A rare opportunity to own a piece of luxury.
The Spanish coastline has many beautiful beaches but it's hard to beat the beaches of Southern Spain.  The Costa del Sol and Alcaidesa continues to attract strong international interest and investment as it has an established and popular real estate market, as well as offering 320 days of sunshine a year – the perfect get away from cold climes..
Alcaidesa is only 20 minutes from Gibraltar, so for those working in the city, this relaxed and beautiful area is the perfect retreat to come home to after a long days work, and much more affordable. It truly is a hidden gem.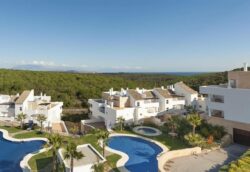 Costa del Sol  is the most prominent area on Spain's coast and it continues to attract more international investors than any other Spanish region. Come see Alcaidesa today and enjoy its peaceful natural beauty.
The advantages of buying seaview penthouses for sale in Alcaidesa:
Ecologically clean region, favourable warm climate, beautiful well-maintained beaches, many picturesque parks and towns.
High quality lifestyle in a safe environment.
Developed resort and transport infrastructure with quality roads, numerous hotels, restaurants, cafes, shopping centre
Excellent sport facilities with numerous first-class golf courses, tennis and paddle courts, wind surfing, kite surfing, sailing, diving, equestrian centres and even skiing only 3 hours away in Sierra Nevada.
Many sporting and cultural events are held in the area.
Real estate off plan Alcaidesa is of a high quality when compared with many regions of Spain.
More than 80% of home buyers in Alcaidesa are international from countries as diverse as Estonia, Belgium, Norway, Netherlands, Sweden, France, UK, Ireland and Czech Republic, so the real estate market does not depend significantly on any one country.
Open and friendly attitude to foreign citizens and property buyers.
Favourable business conditions in the country with competitive interest rates on mortgages.
Why now is the time to buy seaview penthouses for sale in Alcaidesa?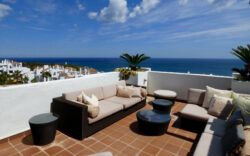 One of the main reasons why you should consider buying exclusive penthouses is that they offer great value.. Despite Alcaidesa being located in Spain's Costa del Sol region, it has not been affected as much as other areas on the coast by the  construction boom or bust,and is a hidden gem. This means that prices can offer better value when compared to it's neighbours and there are unique opportunities to be found. Buying a penthouse in Alcaidesa gives you many options – not only can you live here or use it as a second home, but it also makes a great investment; now is the perfect time to buy your own piece of paradise!
Contact us today for more information about our developments! With One Eden you can find the best seaview penthouses for sale.