Buying a Townhouse in Alcaidesa - why it might be ideal
Choose your best place
PHASE I 100% SOLD
PHASE II 75% SOLD
SHOW APARTMENT NOW OPEN
260+ Luxury Seaview Duplex & Penthouses
1-3 bedroom houses.
Apartments, duplexes and penthouses with stunning sea views and beautiful resorts areas.
Stunning location, top-end construction materials, state-of-the-art design and gorgeous sea views.






The Benefits of Buying a Townhouse in Alcaidesa – why it might be ideal
Looking for a new place to call home? Alcaidesa may be exactly what you're looking for! Located on the Spanish Riviera, between Gibraltar and Sotogrande, this picturesque town offers more than just beautiful views. Its breathtaking scenery is matched only by its incredible lifestyle opportunities – like owning a luxurious townhouse in one of its many exclusive residential communities. If you want an idyllic combination of modern amenities and stunning vistas, then Alcaidesa could be the perfect place to buy! Here are some of the advantages that await those who invest in this vibrant community.
Advantages of Living in a Townhouse – Privacy and Security
Townhouses offer unique benefits when it comes to privacy and security that other living arrangements don't. These dwellings provide a sense of shelter from the outside world, allowing residents to feel safe and secure in their own homes. The setup of a townhouse also typically requires both neighbors to share walls, making it easier for people in close proximity to watch out for each other's safety. Different levels within the residence, like two-story townhomes, further assures privacy in separate living areas throughout the dwelling. In addition, depending on the community, some townhouse complexes may also employ security guards or have access restricted entry gates, adding another layer of protection around the area while keeping undesirables away.
Explore the Local Area – A Look at What Alcaidesa Has to Offer
Alcaidesa is a stunningly picturesque area situated on the southern Spanish coastline. From exploring the cities of Torreguadiaro, Manilva and Sotogrande to taking in the stunning sights along the Cala de Chullera and Benalup beaches, this beautiful destination has something for everyone. With pleasant temperatures throughout the year, it's always a great time to visit and enjoy all that Alcaidesa has to offer. Those looking for a little more excitement can take part in activities such as horse riding, golfing or kayaking. There are numerous restaurants serving exquisite seafood dishes and other delicious fare, making this locale truly well rounded. Furthermore, accommodations range from luxury hotels to quaint holiday homes which provide warmth and comfort after a day of exploring. So why not come see what makes this area so special?
Reasons to Invest in a Townhouse – Value Appreciation & Financial Gain
Investing in a townhouse is a great way to increase your financial gain. With the right location and upkeep, townhouses can appreciate quickly in value. Many of these homes are priced lower than traditional detached homes but have the same space and features as larger models. Plus, money can be saved on taxes due to the homestead exemption that comes with owning a property. Through potential tax savings and appreciation of value, investing in a townhouse offers many advantages and financial gain. With the right amount of research ahead of time, making such an investment could be more profitable than previously expected!
Look at the Amenities & Features – A Peek Into the Community's Lifestyle
Exploring the amenities and features of a community affords a unique opportunity to get a glimpse into its lifestyle. From parks and playgrounds to recreation centers, theaters, and shops, the presence of these locations provides insight into local activities and culture. Professionally landscaped sidewalks encouraging outdoor exploration give way to a sense of openness and freedom while security systems provide peace of mind. Add in convenient access to grocery stores, restaurants, public transportation options and highways, and it's clear that living in this particular community speaks volumes about embracing life with an ease built on convenience for its residents.
Decide on the Right Location – Making Sure You're Close to What Matters Most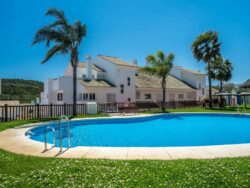 When looking for the perfect new home, it's important to take into account what matters most and make sure you choose a location that puts you close to those things. Whether it's being within walking distance of work, a nearby grocery store, preferred schools for your children, or a lively entertainment district – do your research and find out which location would suit your needs best. If possible, rent a place in the area first to get a feel of the daily rhythm and flow of life before making any commitments. And don't forget – there is no substitute for personal experience. Take some time to explore each potential neighbourhood on foot or by bike to get as close as possible to becoming part of it.
So, in summary, if you are looking for a townhouse in Alcaides, OneEden is the best place to look.  Our experts are always available to answer any questions you may have along the way. We are committed to finding you the perfect home that will meet all of your needs and more – no expense spared!
OneEden makes buying a townhome in Alcaidesa easy and affordable for everyone. Trust us – once you find the perfect home with them, you won't want to look for anything else! Be sure to stop by OneEden today!