Exclusive apartments for sale in Benalmadena
Choose your best place
PHASE I, II & III SOLD OUT
PHASE IV NOW LAUNCHED
900 + Seaview apartments, townhouses and villas
PHASE I - 69 Seaview penthouses and apartments
PHASE II - 71 Seaview penthouses and apartments
PHASE III - 64 Seaview penthouses and apartments
PHASE IV - 65 Seaview penthouses and apartments






Benalmadena Apartments for Sale: Your Gateway to Luxury Living on the Costa del Sol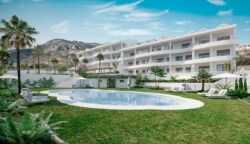 Are you searching for your dream home on the Mediterranean coast? Look no further than Benalmadena apartments for sale, which offer a perfect blend of modern amenities and luxury living. Located on the Costa del Sol, this charming town boasts a year-round temperate climate, pristine beaches, and stunning ocean views. In this article, we will explore the various benefits of investing in real estate in Benalmadena.
Benalmadena – apartments for sale
The real estate market in Benalmadena has seen a significant rise in recent years. With its strategic location on the coast of the Mediterranean Sea, the town offers an ideal investment opportunity for buyers seeking a second home or retirement destination. Whether you are looking for an apartment with a sea view or a villa with a private pool, Benalmadena has something to offer for everyone.
Beaches and Marina
One of the town's main attractions is its stunning beaches, which offer endless opportunities to enjoy the sun, sand, and sea. Benalmadena also has a beautiful marina, which is home to numerous luxury yachts and provides a range of water sports and recreational activities, including sailing, jet skiing, and boat tours.
Golf Courses and Nightlife in Benalmadena
Benalmadena is a golfer's paradise, with several world-class golf courses located in the area. The town also has a vibrant nightlife scene, with numerous bars, restaurants, and clubs catering to all tastes and budgets. Whether you're looking for a relaxed evening with friends or a night of dancing, Benalmadena has something to offer.
Family-Friendly and Retirement Destination
With its welcoming atmosphere and numerous family-friendly attractions, Benalmadena is an ideal location for families looking to relocate or invest in a vacation home. The town is also a popular retirement destination, offering a laid-back lifestyle with access to high-quality healthcare and other essential services. Benalmadena has several international schools, making it an attractive location for families with children.
Modern Amenities and Spacious Interiors
Benalmadena apartments for sale offer a range of modern amenities, including high-speed internet, air conditioning, and 24/7 security. The spacious interiors feature open-plan living areas, sleek kitchens, and elegant bedrooms with en-suite bathrooms. The apartments also offer breathtaking ocean views from large balconies and terraces. Many of the buildings feature infinity pools and lush gardens, providing the perfect oasis for relaxation.
Proximity to Malaga Airport
Located just 20 minutes away from Malaga airport, Benalmadena offers excellent connectivity to major cities in Europe and beyond. This makes it an ideal location for investors seeking a second home or rental income. The town's excellent transport links also make it an attractive location for professionals who need to travel frequently.
In conclusion, Benalmadena apartments for sale offer an opportunity to experience the best of the Mediterranean lifestyle on the Costa del Sol. Whether you're looking for a family-friendly destination, retirement home, or vacation property, Benalmadena has something to offer. Contact us today to find your dream home in this charming town.