Make Your Dreams Come True With OneEden's Estepona Apartments
Choose your best place
PHASE I 100% SOLD
PHASE II 75% SOLD
SHOW APARTMENT NOW OPEN
260+ Luxury Seaview Duplex & Penthouses
1-3 bedroom houses.
Apartments, duplexes and penthouses with stunning sea views and beautiful resorts areas.
Stunning location, top-end construction materials, state-of-the-art design and gorgeous sea views.






NOW ON SALE!
SHOW APARTMENT OPEN NOW
293 Sea and Golf view Homes
1-4 bedroom apartments and penthouses
Front line golf
5 minutes walk to La Hacienda Links Golf Resort clubhouse
Stunning resort area with beach entry pool, jacuzzis, indoor gym, co-working area, crazy golf and yoga & mediation zone.






PHASE III LAUNCHED
PHASES I & II SOLD
SHOW APARTMENT NOW OPEN!
900 + Seaview apartments, townhouses and villas
PHASE III - 64 Seaview penthouses and apartments.
PHASE II - 71 Seaview penthouses and apartments.
PHASE I - 69 Seaview penthouses and apartments.






Discover Luxury Living with OneEden's Estepona Apartments
Are you looking for a vibrant, modern place to call home? OneEden's Estepona Apartments are redefining ultimate luxury living in southern Spain. Located steps from the Mediterranean and offering stunning, panoramic views of the beachfront and picturesque mountainside, this exclusive development offers all the comforts needed for stylish urban life with an ambiance that will truly take your breath away. Whether you're searching for a getaway vacation pad or dream home, come explore why Estepona is quickly becoming one of Europe's most desirable locations – with its incredible combination of culture, excitement and remarkable beauty. From tasteful amenities to unparalleled service excellence – courtesy of OneEden's elite team – there is no better way to enjoy life on the Costa del Sol!
Benefits of living in Estepona, including its close proximity to beaches and cultural landmarks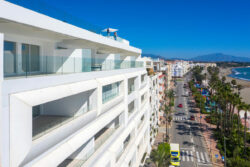 Estepona is an ideal place to live, offering its residents a plethora of benefits. With its close proximity to the iconic blue waters of the Costa del Sol and various stunning beaches, nature lovers will find themselves captivated by the beauty of the region. Not only that, but Estepona also boasts many cultural landmarks and attractions; from monuments to interesting sites such as the famous Cortijo Miraflores Park, it's easy for anyone to immerse themselves in the vibrant history of this location. With all these exciting opportunities available so close by, living in Estepona means having easy access to all kinds of experiences. Whether you're a culture enthusiast or a beach goer, there is something for everyone here!
Living at the newest residential community development offers a luxurious lifestyle with numerous amenities to enjoy. From state-of-the-art fitness centers and sparkling pools to relaxing spas, tennis courts and golf courses, life here is a dream come true.  Whether you want to stay fit or simply be pampered, the available amenities make it easy to make that happen. With something for everyone, this new development sets the standard for comfortable living.
Additional Benefits Such As Security and Transport Links
As people continue to search for convenience, some of the additional benefits to consider are security and transport links. For example, looking for a new place to live may involve finding a neighborhood that offers not only attractive housing prices but also an area that is safe and well-connected. Having access to reliable transportation such as public transit or bike lanes can be a major factor in deciding where to live. Additionally, having good security measures such as strong locks on doors and the presence of a monitoring system can help ensure the safety of residents and their property. When it comes time to choose your next living space, looking into extra benefits like these might give you peace of mind when it comes to feeling secure in your home.
Overview Apartments for sale in Estepona and its luxurious features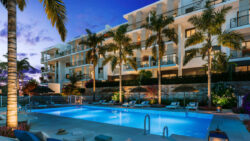 Estepona apartments for sale by OneEden is a luxurious condo in the Spanish resort area of Andalusia. This exclusive boutique provides luxury rentals with high-end amenities and breathtaking views. The two- and three-bedroom apartments offer plenty of space for entertaining.  Residents at the complex benefit from large private terraces, a shared infinity pool, lush gardens, convenient parking options, and direct beach access where they can relax in paradise.
As outlined in this blog post, the beachside city of Estepona is an ideal location for luxury living. From its endless amenities to the abundant culture and activities nearby, it has something for everyone. The OneEden apartments truly reflect the Luxury Living that Estepona offers. While there are many other places you could choose to make your home, it is hard to beat a city like Estepona when it comes to outstanding quality of life. So if you are looking for a place that combines natural beauty with luxurious amenities and services – consider the OneEden apartments in Estepona and never look back!