Luxury houses for sale in Estepona
Choose your best place
PHASE I 100% SOLD
PHASE II UNDER CONSTRUCTION
NEW PHASE COMING SOON
260+ Luxury Seaview Duplex & Penthouses
1-3 bedroom houses.
Apartments, duplexes and penthouses with stunning sea views and beautiful resorts areas.
Stunning location, top-end construction materials, state-of-the-art design and gorgeous sea views.






PHASE I, II & III SOLD OUT
PHASE IV LAUNCHING SOON
900 + Seaview apartments, townhouses and villas
PHASE I - 69 Seaview penthouses and apartments
PHASE II - 71 Seaview penthouses and apartments
PHASE III - 64 Seaview penthouses and apartments
PHASE IV - 65 Seaview penthouses and apartments






Discover Your Dream Home in Estepona – Houses for Sale
Looking for the perfect place to call home in the Mediterranean? Look no further than Estepona! Nestled in the heart of the Costa del Sol, this charming town is a hidden gem, offering unparalleled beauty, luxury, and exclusivity. Whether you're looking for a holiday home, a permanent residence, Estepona has something for everyone.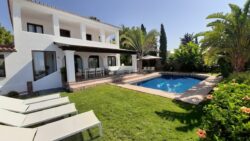 Oneeden, a premier real estate developer with over 30 years of experience in the industry, has built properties in various locations, including Florida, Singapore, the UK, and Gibraltar. And now, on Oneeden.com, you can explore a wide range of luxury properties available for sale in Estepona, from stunning villas with sea views to modern apartments with contemporary designs.
So, why should you consider buying a property in Estepona? Let's dive into the top reasons.
Security and Privacy
Estepona is known for its top-notch security and gated communities. Many of the properties feature lush landscaped resort areas that offer tranquility and privacy to its residents. So, if you're looking for a peaceful and safe environment, Estepona is the place to be.
Luxurious Amenities
The properties in Estepona boast luxurious amenities that are sure to impress even the most discerning buyers. From infinity-edge beach pools to beachfront access and breathtaking sea and mountain views, you'll never run out of things to enjoy in Estepona.
Proximity to Golf
Golf enthusiasts will love Estepona's location, with almost all properties located next to prestigious golf courses in the region. So, if you're looking to improve your handicap or simply enjoy a round of golf, Estepona is the perfect place to be.
Variety of Styles
Whether you're searching for a traditional Spanish-style villa or a modern, contemporary apartment, there's something for everyone in Estepona. The properties feature spacious terraces and gardens perfect for entertaining guests or enjoying a morning coffee in the sunshine. With a wide range of styles and designs, you're sure to find the perfect property that suits your taste.
Stunning Views
The houses in Estepona offer breathtaking sea and mountain views, providing residents with a stunning backdrop for their homes. Imagine waking up to the sound of the waves crashing on the shore or enjoying a glass of wine while watching the sunset over the mountains. With the stunning views in Estepona, you'll never get tired of the scenery.
In Estepona, you can enjoy the best of both worlds with easy access to the beach and nearby recreational activities while still enjoying the tranquility and privacy of a gated community. Estepona is a town that is rich in culture, history, and natural beauty. From its charming old town to its beautiful beaches, there's something for everyone in Estepona.
Don't miss out on the opportunity to own a piece of paradise in Estepona. Contact Oneeden today to explore the range of luxury properties and real estate available in this stunning location. Our team of experts will be happy to assist you in finding your dream home in Estepona.