Exclusive townhouses for sale in Estepona
Choose your best place
PHASE I 100% SOLD
PHASE II 75% SOLD
SHOW APARTMENT NOW OPEN
260+ Luxury Seaview Duplex & Penthouses
1-3 bedroom houses.
Apartments, duplexes and penthouses with stunning sea views and beautiful resorts areas.
Stunning location, top-end construction materials, state-of-the-art design and gorgeous sea views.






PHASE III LAUNCHED
PHASES I & II SOLD
SHOW APARTMENT NOW OPEN!
900 + Seaview apartments, townhouses and villas
PHASE III - 64 Seaview penthouses and apartments.
PHASE II - 71 Seaview penthouses and apartments.
PHASE I - 69 Seaview penthouses and apartments.






LAUNCHING SOON
64 Luxurious Townhouses with luscious, landscaped resort area and gardens
Luxurious townhouses with 3 to 5 bedrooms in an unrivalled setting, surrounded by extensive green areas.






Exclusive Townhouses for Sale in Estepona – Invest in Your Future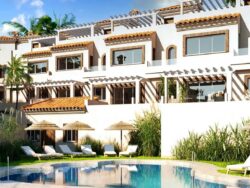 Estepona is a popular destination for those seeking a luxurious lifestyle, and penthouses are one of the most sought-after properties in the city. With their high-end amenities, modern design, and breathtaking views, penthouses offer a truly luxurious living experience.
Luxury Living
Penthouses in Estepona are the epitome of luxury living. From the moment you step into one of these properties, you'll be surrounded by high-end finishes and luxurious features. From the state-of-the-art appliances to the elegant decor, every detail has been carefully considered to ensure that residents enjoy the ultimate in luxury living.
High-End Amenities
One of the biggest advantages of owning a penthouse in Estepona is the high-end amenities that come with it. Many penthouses feature private terraces, swimming pools, and even spa facilities. You can enjoy the convenience of having everything you need right at your fingertips, without ever having to leave the comfort of your home.
Breathtaking Views
Penthouses in Estepona offer some of the most breathtaking views in the city. Whether you're looking out over the Mediterranean Sea or the stunning Sierra Bermeja mountain range, the views from these properties are truly mesmerizing. Imagine waking up every morning to a view of the sun rising over the sea, or watching the sunset from your private terrace.
Modern Design
One of the most attractive features of penthouses in Estepona is their modern design. These properties are designed with contemporary aesthetics in mind, with sleek lines, minimalist decor, and high-tech features. Whether you prefer an open-plan living space or a more traditional layout, you can find a penthouse in Estepona that suits your style.
Prestigious Location
Estepona is a highly prestigious location, and penthouses in the city are some of the most desirable properties in the region. Located close to some of the best beaches, golf courses, and restaurants in the area, these properties offer residents the ultimate in luxury living. Plus, with their prestigious location comes the added benefit of increased property value over time.
Gated Communities
Many penthouses in Estepona are located in gated communities, offering residents an added level of security and privacy. You can have peace of mind knowing that your home is safe and secure, while still enjoying all of the amenities that the city has to offer.
Proximity to Amenities
Penthouses in Estepona are located in close proximity to a variety of amenities, including world-class restaurants, high-end shopping destinations, and some of the best golf courses in the region. You'll never be far from the action when you own a penthouse in Estepona, and you can enjoy all that the city has to offer just a short walk or drive from your doorstep.
In conclusion, penthouses in Estepona offer the ultimate in luxury living. From their high-end amenities to their breathtaking views, these properties are the perfect choice for those who want to enjoy the best that life has to offer. With their modern design, spacious terraces, and prestigious location, penthouses in Estepona are a true investment in your lifestyle.