Exclusive apartments for sale in Fuengirola
Choose your best place
PHASE I, II & III SOLD OUT
PHASE IV LAUNCHING SOON
900 + Seaview apartments, townhouses and villas
PHASE I - 69 Seaview penthouses and apartments
PHASE II - 71 Seaview penthouses and apartments
PHASE III - 64 Seaview penthouses and apartments






Discover the Benefits of Buying Apartments in Fuengirola with Oneeden
Fuengirola is a charming coastal town located on the Costa del Sol in Spain. It is a popular destination for tourists and homebuyers alike, offering a laid-back lifestyle, beautiful beaches, and a range of attractions and amenities. Oneeden, a renowned developer in the area, offers some of the best apartments for sale in Fuengirola. In this article, we'll explore the benefits of buying an apartment in Fuengirola and why Oneeden's apartments are a great choice for homebuyers.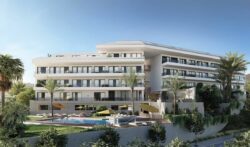 Oneeden is a leading developer in the Costa del Sol region, with a focus on creating high-quality, modern homes that offer both comfort and luxury. They have a reputation for delivering exceptional properties that cater to a range of budgets and preferences. Oneeden's apartments in Fuengirola are no exception, with modern designs, spacious interiors, and a range of amenities to make living in Fuengirola even more enjoyable.
Excellent Location
One of the biggest benefits of buying an apartment in Fuengirola is the town's excellent location. Situated on the coast, Fuengirola offers easy access to the beach, as well as a range of water activities such as surfing, swimming, and snorkeling. The town is also just a short drive away from other popular destinations such as Marbella and Malaga, making it an ideal base for exploring the region.
Laid-Back Lifestyle
Fuengirola is known for its laid-back lifestyle, making it a popular destination for retirees and families alike. The town offers a relaxed pace of life, with plenty of opportunities to enjoy the outdoors and soak up the Spanish sun. From leisurely walks along the beach to a round of golf at one of the nearby courses, there's something for everyone in Fuengirola.
Stunning Views
One of the most striking features of Fuengirola is its stunning views. Whether you're looking out to the Mediterranean Sea or the majestic mountains that surround the town, there's no shortage of picturesque scenery to enjoy. Many of Oneeden's apartments offer breathtaking views, making them a great choice for those who want to enjoy the beauty of Fuengirola from the comfort of their own home.
A Range of Amenities
Fuengirola has a wide range of amenities to cater to residents' needs, including supermarkets, shops, restaurants, and cafes. For those who enjoy a spot of retail therapy, the town also has a range of shopping centers, including Miramar Shopping Centre, one of the largest in the region. Fuengirola also has excellent healthcare facilities, with several hospitals and clinics located within easy reach of the town.
Variety of Apartment Types
All of Oneeden's apartments in Fuengirola feature modern designs and high-quality finishes. The apartments are available in a range of sizes and layouts, making them suitable for singles, couples, and families. Many of the apartments also have large terraces or balconies, perfect for enjoying the Spanish sunshine and al fresco dining.
Trusted Developer
Choosing a reputable developer is essential when buying a property, and Oneeden has a strong reputation for delivering high-quality homes. They have years of experience in the industry, and their properties have won several awards for their design and quality. Oneeden is committed to delivering exceptional customer service, ensuring that buyers feel supported throughout the buying process and beyond.
In conclusion, buying an apartment in Fuengirola offers a range of benefits, from the town's excellent location and laid-back lifestyle to its stunning views and strong rental potential. Oneeden's apartments in Fuengirola are a great choice for homebuyers, with a variety of apartment types to suit a range of budgets and preferences. With their commitment to quality and exceptional customer service, Oneeden is a trusted developer in the Costa del Sol region