Luxury golf apartments in Sotogrande
Choose your best place
PHASE I 100% SOLD
PHASE II UNDER CONSTRUCTION
NEW PHASE COMING SOON
260+ Luxury Seaview Duplex & Penthouses
1-3 bedroom houses.
Apartments, duplexes and penthouses with stunning sea views and beautiful resorts areas.
Stunning location, top-end construction materials, state-of-the-art design and gorgeous sea views.






PHASE I OVER 80% SOLD
PHASE II NOW LAUNCHED
293 Sea and Golf view Homes
1-4 bedroom apartments and penthouses
Front line golf
5 minutes walk to La Hacienda Links Golf Resort clubhouse
Stunning resort area with beach entry pool, jacuzzis, indoor gym, co-working area, crazy golf and yoga & mediation zone.






Fall in Love With Sotogrande: The Most Luxurious Residential Area in Southern Spain
Looking for a luxurious and peaceful place to retire? Or perhaps a holiday home in the sun? Or would you like to invest in real estate? Then look no further the Sotogrande area, Spain. This spectacular location offers premier frontline apartments next to La Hacienda Links Golf Resort, with it's two 18 hole golf courses overlooking the Mediterranean Sea.
Sotogrande – a small town in southern Spain in the province of Cadiz in Andalusia, located 15 kilometers north of Gibraltar. Its area is about 20 square kilometers.
Sotogrande is an exclusive urbanisation and is situated along the estuary of the Guadiaro River, which has been transformed into a luxury sports port. Boats and yachts are docked here literally on your doorstep.
Today, Sotogrande is not only the most "luxurious" region of Spain, but also ranks in the top areas in the whole of Europe. It has 5 golf courses, polo fields, where in July and August international tournaments have been held for over 40 years at the polo club Santa Maria. Also in Sotogrande are tennis courts and an equestrian school where you can learn to ride or improve your riding skills. The estuary of the Guadiaro River is also a popular place for fishing, sailing, and windsurfing. If you are looking for a relaxed and luxurious vacation spot, then Sotogrande is the perfect place for you.
Apartment for sale close to Sotogrande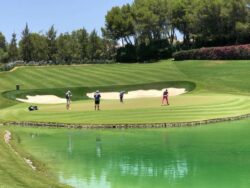 Looking for a place to call your own on this fabulous coast? We have offers for your consideration – might be perfect!  Our apartments and penthouses at Serenity-Alcaidesa and Infinity-Alcaidesa will satisfy everyone's needs.
Imagine living by the sea, with a view that stretches as far away from shoreline to horizon. What are you waiting for? These luxurious off plan resorts have been specially designed and built so buyers can enjoy their surroundings without any distraction or worry; they provide total privacy in beautifully landscaped gardens surrounded by greenery – perfect for spending time with family for days at home together.
Infinity Alcaidesa is a paradise for those looking to enjoy luxury living. Enjoy breathtaking views and lush greenery from your own private terrace or garden with an infinity pool overlooking the Mediterranean Sea! Choose between 1, 2 & 3 bedroom apartments, penthouses and duplexes that have a contemporary design with generous outside terraces and gardens so you can invite friends over without feeling crowded – especially on those warm summer nights when everyone wants some good old fashioned "quality time."
Serenity is a perfect option for those who are looking for a relaxing getaway. At Serenity Alcaidesa, you'll enjoy all the comforts of home in elegant, stylishly appointed accommodations. Choose from 1, 2, 3, or 4 bedroom homes, all nestled in a lush and green landscaped oasis. Serenity Frontline Golf View Homes and Beach Club is nestled adjacent to the beautiful Heathland Golf Course.
Why buy apartments with sea and mountain views near Sotogrande?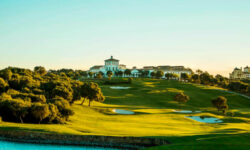 There are many good reasons to buy an apartment or penthouse near Sotogrande. First and foremost, the views are simply stunning. Whether you're watching the sun rise over the water or enjoying a sunset with a glass of wine, there's no denying the beauty of the Mediterranean Sea and the surrounding natural parks. Being amongst this natural beauty provides practical benefits as well.
Apartments and penthouses with views of the great outdoors can benefit from the natural clear light flooding into panoramic windows leading to spacious terraces. Additionally, sea views can help to increase the value of your property, making it a wise investment for the future. Whether you're looking for a place to call home or an investment opportunity, an apartment set in nature close to Sotogrande is sure to meet your needs.
Front-Line golf apartments close to Sotogrande
Do you like to play golf? Then you'll love Sotogrande and the surrounding area – home to some of the best golf courses in southern Spain. Whether you are a beginner or a pro, there is definitely a course that will suit your level here.
What's more, our luxury apartments offer stunning views of the nearby golf courses, so you can enjoy the beautiful Andalusian scenery while you play.
Not a fan of golf? No problem. There are plenty of other activities to enjoy in this area. From shopping and dining to sailing and horseback riding, there's something for everyone here.
Contact us
So what are you waiting for? One Eden offers luxury apartments and penthouses set in lush gardens with resort facilities, in this beautiful part of the world. Whether you're looking for a holiday rental income property or a permanent home, we're sure to have something that meets your needs. Our agents are on hand to offer advice and guidance every step of the way, so don't hesitate to get in touch if you need any assistance.Take a look at our current selection of golf and coastal real estate in the Sotogrande area below and find your perfect piece of paradise today.