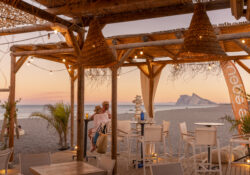 Stroll down the winding streets of Alcaidesa to it's golden beaches and discover One Eden Chiringuito where you will enjoy a unique experience combining luxury, comfort, design, music, great food, delicious cocktails and excellent service.
With stunning views over the Mediterranean Sea and the Rock of Gibraltar, there is no better place to spend a day with family and friends. Release your stresses, forget the daily grind, and unwind as you sip cocktails and indulge yourself on fine food. Relaxing sun beds and a play area for the kids ensure everyone is catered for. And as the sun begins to set, the atmosphere at the chiringuito becomes even more magical.
Choose from a range of light bites, salads and specials along with a great selection of desserts – all freshly prepared with locally sourced ingredients. Our experienced mixologists deliver an amazing selection of cocktails with innovative daily delights while the chefs have their grills at the ready to offer some of their world-famous Spanish plates just for you.
One Eden Chiringuito has become a beloved part of Alcaidesa and a treasure for all who visit it. As a social hub for the community, it's a place where people come together and make new friends. Whether you're a local or a tourist, you will always feel welcome. It's the perfect place to spend a day with family and friends and create lasting memories.
One Eden Chiringuito is open 7 days a week. Visit oneedenchiringuito.com for more information