Exclusive seaview apartments for sale in Alcaidesa
Choose your best place
PHASE I 100% SOLD
PHASE II 75% SOLD
SHOW APARTMENT NOW OPEN
260+ Luxury Seaview Duplex & Penthouses
1-3 bedroom houses.
Apartments, duplexes and penthouses with stunning sea views and beautiful resorts areas.
Stunning location, top-end construction materials, state-of-the-art design and gorgeous sea views.






NOW ON SALE!
SHOW APARTMENT OPEN NOW
293 Sea and Golf view Homes
1-4 bedroom apartments and penthouses
Front line golf
5 minutes walk to La Hacienda Links Golf Resort clubhouse
Stunning resort area with beach entry pool, jacuzzis, indoor gym, co-working area, crazy golf and yoga & mediation zone.






Seaview apartments in Alcaidesa – Exclusive location!
La Alcaidesa is a gated community in the province of Cadiz. Its natural topography allows the town to have an enviable location overlooking the Mediterranean Sea and easy access to Gibraltar, Estepona  and the cities of Malaga  and Marbella.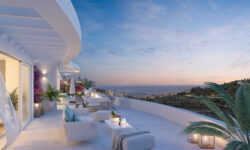 Luxury seaview apartments for sale in Alcaidesa are in high demand among  international and local buyers. This is due to a number of reasons – affordable prices in Alcaidesa for Real Estate, favorable climatic conditions, the location near the sea, as well as a large flow of tourists throughout the year. This means that you will find  apartments for sale in Alcaidesa, just minutes from the beach, during both summer and winter season, as the Costa del Sol  enjoys 320 days of sunshine a year. Many people from northern Europe and other regions come here for the winter, so buying an exclusive seaview apartment in Alcaidesa is beneficial not only in terms of owning a home for your own holiday, but also to achieve rental income.
The Benefits of Living in a Luxury Apartment in Alcaidesa
One of the benefits of living in an exclusive seaview apartment in Alcaidesa is the stunning views. Our apartments offer breathtaking views of the Mediterranean Sea, making it the perfect place to relax and enjoy the Andalusian lifestyle. Whether you're sipping coffee on your private balcony or taking a walk within nature.
Another benefit of choosing our apartments for sale in Alcaidesa is the location. Alcaidesa is a centrally located community, which means that you're never far from other attractions. Whether you're looking to explore Spain's rich history and culture or you're seeking out the best nightlife and dining that the country has to offer, you'll find it all within easy reach when you call Alcaidesa home.
In addition to stunning views and a central location, our apartments for sale in Alcaidesa also offer world-class amenities. Our developments  are equipped with the latest in modern conveniences, from fitness centers and swimming pools to children's facilities and co-working spaces..
If you're looking for an apartment with seaviews in Alcaidesa, we have just what you're looking for. Our apartments are premium quality and great value, so you can enjoy all the benefits of living in a luxurious resort complex without breaking the bank. Give us a call or email to us today and we'll be happy to answer any questions you have.
Where to buy the best apartments with sea views in Alcaidesa
One Eden offers seaview apartments in Alcaidesa. One Eden is the best place to find your dream home.  Our team has decades of experience and they know everything there is to know about buying real estate in Spain. They can help you with every step of the process, from finding your dream home, the legal process and the final purchase.
You won't believe how easy it is to get started! Сontact us by phone  (+34) 663 49 08 70 and we will find you the luxury seaview apartment of your dreams.