Tee Off in Style – Explore the Best Golf Courses in Costa del Sol with OneEden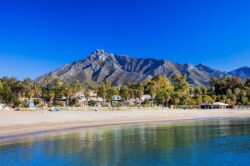 As the sun sets on the sparkling blue waters of Costa del Sol, golfers around the world come together to enjoy some of Europe's best courses. From dramatic hillside terrain and centuries-old olive trees to stunning seascapes that dot the landscape, Costa del Sol has plenty of amazing holes-in-one waiting for you. Whether you're a seasoned golfer or just learning how to hit your first shot, it offers something special for everyone. Here we take a closer look at some of the very best golf courses in this beautiful area so that next time you travel there, you can make sure it's a hole-in-one experience!
Introducing Costa del Sol – a golfer's paradise
If you're a golfer looking for the perfect place to challenge yourself and appreciate the serenity of nature at its finest, look no further than Costa del Sol. Located on the stunning southern coast of Spain, this paradise for golfers features an array of immaculate golf courses with breathtaking views, making it a top destination for both pros and amateurs alike. With a mild Mediterranean climate, hundreds of world-class golf courses to choose from, and plenty of attractions to entertain even those who are not golf-fanatics, Costa del Sol is sure to be a fantastic option for any individual or group searching for that perfect getaway!
Exploring the top 5 golf courses in Costa del Sol
Golf is becoming an increasingly popular sport for many people. If you want to experience some of the best golf courses in the world, you should plan a visit to Costa del Sol in Spain. This area has five of the finest golf courses, ranging from lush beacheside experiences to classically designed masterpieces. As you explore these diverse courses, you will be treated to some of the finest golfing that Europe has to offer and possibly even find your new favorite course. So plan a visit as soon as possible and tee off on some truly unforgettable courses!
Valderrama Golf Club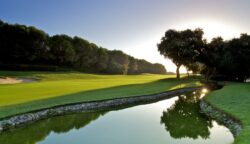 Valderrama Golf Club is a historic golf club located in the southernmost part of Spain, just a few miles from the Mediterranean Sea. The club was designed by Robert Trent Jones, Sr., and opened for play in 1974; it is known for its challenging and beautiful 18-hole course as well as its top-notch service and amenities. Many elite golfers consider Valderrama to be one of the best courses in Europe, perhaps even rivaling the famous Pebble Beach course in California. In 1997, Valderrama hosted the Ryder Cup matches, with Seve Ballesteros leading Team Europe to victory over Team USA. Although it only has 200 members, visitors are welcomed to play at this exclusive club on course green fees. For any golfer lucky enough to visit Valderrama Golf Club, they will never forget their experience and come back time and time again.
Real Club de Golf Sotogrande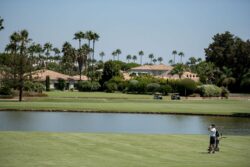 Real Club de Golf Sotogrande is an exclusive and stylish golf course located in the province of Cádiz, in the south of Spain. The 18-hole championship course, encompassing a 6,977 meter par 72 layout, was opened in 1962 and has been a prestigious destination for golfers ever since. Designed by Robert Trent Jones, Sr., Real Club de Golf Sotogrande provides challenging yet enjoyable golf to members and visitors alike. While playing golf on this renowned course, you can admire breathtaking views of the Mediterranean Sea and enjoy its scenic beauty – a truly unforgettable experience for any golfer!
La Cala Golf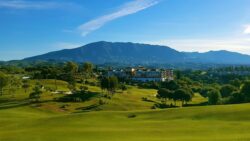 If you are looking for a golf resort that offers spectacular views and tranquil vibes, then look no further than La Cala Golf in Málaga Spain. Located just 20 minutes inland from the coast of Marbella and Fuengirola, La Cala Golf has been voted ​Spain's Best Golf Resort​ for 2020 and is home to three stunning 18-hole courses set amongst rolling hills draped with beautiful trees. Boasting over 26 years of experience, world-class facilities and professional all year round services including coaching clinics, tournaments as well as lessons ranging from beginner levels all the way up to scratch handicaps – this leading Mediterranean golf resort provides an unforgettable holiday experience where luxury and hospitality meet nature at its finest. Whether you're a passionate golfer or simply looking for a unique getaway right on your doorstep this summer –La Cala Golf has something to offer everyone!
Finca Cortesin Golf Club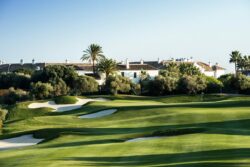 Finca Cortesin Golf Club is renowned worldwide for its top quality courses, first-class amenities and excellent service, set in the stunning Andalusia countryside near Marbella, Spain. Established in 2006, this exclusive club is recognised as one of the most beautiful and challenging golf experiences in Europe. Host to the prestigious Volvo World Match Play Championship five times since 2009 and continually chosen as one of Spain's 100 Greatest Golf Courses, Finca Cortesin enjoys a global reputation. Utilising cutting-edge technology, traditional methods of construction and eco-friendly materials throughout, Finca Cortesin truly is an incomparable golf experience.
Las Brisas Golf Club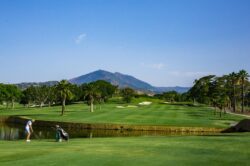 Las Brisas Golf Club is a magnificent oasis nestled in the plush landscape of the Central Valley in Costa Rica. This award-winning golf facility offers members and guests alike an unbeatable experience – from its pristine South American-style course, to its relaxing and luxurious clubhouse. With ample shade trees, lush grass, and spectacular views, it's no wonder Las Brisas Golf Club has earned such acclaim from golfers across all skill levels! Whether you are an avid golfer looking to sharpen your strokes while enjoying phenomenal views, or just looking for an afternoon of relaxation, this club is sure to provide a memorable experience.
Why buy a property with golf courses
Buying property with access to golf courses is a great investment for people who love spending time outdoors and socializing with others. Relaxing on the green, enjoying a game of golf with friends, and challenging yourself against frustrations of the sport all make for amazing experiences on the golf course. For those who take their golf seriously, owning a property near a golf course can give you easy access to facilities that offer expertise and tips from experienced players, as well as an array of merchandise to help push you toward bettering your game. With so many other incredible amenities included in the overall purchase price, buying a property in an area with available golf courses could be one of the best decisions that you make.
When looking to buy golf properties in Spain, you can't go wrong with OneEden. By utilizing One Eden, you can customize your living space without worry, knowing that you will be in good hands when it comes to finding high quality golf related properties in Spain. With a knowledgeable staff and cutting edge approach, OneEden truly brings out the best in Spanish golf property offerings.